This year marks the centenary of women being granted the parliamentary vote in 1918 (though it was for the over-thirties only at first!). We may expect the media to dwell through the year, as usual, upon the sensational activities in support of this goal of the militant "suffragettes", led by the Pankhursts. But the peaceful, non-militant, "suffragists" were much better-supported and were arguably more effective in the long run.
The crowning glory of the non-militant suffragist campaign was their Great Pilgrimage of Summer 1913, in which thousands of women (and some men) marched from all over the country to London where a huge rally demanding women's suffrage (over 50,000 attended) was held in Hyde Park on July 26th. They trekked along six main routes to the capital, over a six week period. The "Great North Road" contingent, starting out from Newcastle on 18th June, had an eventful time of it in the West Riding of Yorkshire, which I shall describe in this post.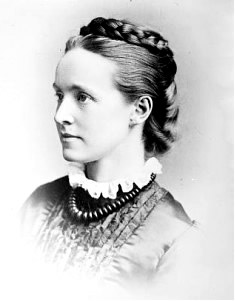 Suffragist leader Millicent Fawcett (1847-1929) photographed as a young woman. Public domain
The Great Pilgrimage was organised by the suffragist National Union of Women's Suffrage Societies (NUWSS), which was led to victory by Millicent Fawcett from 1897 to 1919. Mrs Fawcett deserves to be at least as well-known as Emmeline, Christabel and Sylvia Pankhurst, as does Mrs Katherine Harley, (from Shropshire) who masterminded the Pilgrimage. And countless ordinary women, who campaigned long and hard for the cause in local branches of the NUWSS, also deserve to be better-recognised.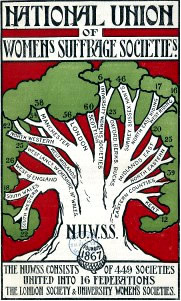 NUWSS Poster, 1913. Public Domain
Leeds Women's Suffrage Society (LWSS) was formed in 1890. This followed a sometimes acrimonious conference of Northern Counties Women's Liberal Associations, held at Leeds Philosophical Hall on Park Row in November 1890, when members voiced frustration at the Liberal party forever giving priority to causes other than women's suffrage (in this case Irish home rule). Prominent amongst LWSS's founders were the Quaker Ford family of Adel Grange, particularly Isabella Ormston Ford (a longstanding trade union activist) and her sister Emily Susan Ford (a noted artist). Its object was "to obtain for all duly qualified women the right to vote at all the elections at which men vote…".
When it was announced that the Great North Road route of the Pilgrimage would pass their way, the LWSS set itself to organising the marchers' itinerary and accommodation at short notice. In an echo of todays "man with a van" phenomenon, the LWSS advertised in the Yorkshire Evening Post, on 17th June, for "a public-spirited Leeds tradesman", to come forward and earn "the LAW-ABIDING SUFFRAGISTS" gratitude (though not their cash reimbursement, apparently!), by providing a van to carry their hand baggage from Wetherby to Leeds and then on to Wakefield.
Law-abiding though the marchers were they got into trouble at Ripon, where their arrival on Wednesday 25th June coincided with the annual Agricultural Show and its accompanying drunkenness. The Yorkshire Evening Post reported that their leader, Miss Ida Beaver of Tyneside, who "knows how to take care of herself in the rough and tumble of the world", apparently landed "a left straight from the shoulder" on "a rough and boorish fellow" who had ill-used women who tried to speak with his "rude hands". She "floored him." Rowdy behaviour denied the marchers a hearing at Ripon and elsewhere, and this was not the sort of publicity they were seeking. The whole point of the exercise was to present women as responsible public citizens, and to distinguish them from their anarchic suffragette sisters.
They fared much better in Leeds where the Yorkshire Evening Post greeted their arrival on Tuesday 1st July (from Wetherby) warmly, describing the "little band" of marchers as having, "all the winsomeness, refinement, and delicacy which one expects to find in women." The paper also praised the "silver-tonged" oratorical skills of Miss Beaver, and those of Miss Meikle, West Riding Federation NUWSS march organiser, who was reckoned a "rare spouter" after she held forth at Collingham on the road to Leeds.
The Yorkshire Post and Leeds Intelligencer was also well-disposed towards the pilgrims. It described them lunching at Bardsey and then taking tea at the Mansion in Roundhay Park, where a meeting held by the lake was attended by about five hundred people and addressed by Miss Meikle and Mrs Renton (LWSS organising secretary). By this time there were about twelve original pilgrims remaining, though their numbers were swelled to a "valiant" fifty on their departure from Leeds to Wakefield.
A big splash was made on the evening of 1st July, when a crowd of some eight thousand people demonstrated with the pilgrims at Woodhouse Moor: "Large crowds lined the streets as the ladies marched to the Moor. Here and there they were subjected to rough chaff, and in places there was booing, but when it was seen that they belonged to the 'peaceable' party this soon ceased. In Woodhouse Lane some supporters of the cause strewed flowers on the roadway as the party approached." At the Moor speeches in support were delivered from two platforms, not just by NUWSS members but also by local worthies (some of them male), and "Resolutions pledging support to the movement were carried with few dissentients."
The Yorkshire Evening Post concluded that: "Leeds has unmistakably received the non-militants well – so well that the pilgrims themselves are inclined to look upon their progress through the city as one grand triumphal march." Miss Beaver ("their Amazonian young leader") went into raptures about the Woodhouse Moor crowd, saying "…they were tremendously enthusiastic. Practically they were all for us, so that the 'anti's,' who had been there before, had evidently troubled themselves in vain." They left Leeds in "high spirits", having signed up nearly four hundred new adherents and raised a good deal of money for the cause.
Though they were generally well-received on their subsequent path through West Yorkshire, their time in Leeds seems to have been the highpoint. At well-attended meetings in Wakefield things were slightly marred as, "At times the speakers were interrupted, and occasionally pebbles and lumps of cotton waste were thrown by hobbledehoys at them." And the marchers on this route of the pilgrimage were to experience a good deal of hostility and violence as they passed through the East Midlands, particularly at Mansfield where there was a near-riot.
Nevertheless, the Hyde Park rally in London on Saturday July 26th was to prove a "joyous" (Millicent Fawcett's word) culmination of all the marchers' efforts. Maintaining its sympathy for the pilgrims, the Yorkshire Evening Post declared on the day of the rally that: "All will agree in their admiration for the pluck displayed by these women who have marched long distances to London, and roughed it by the way, for the sake of the cause they have at heart…All the more honour to them, therefore, because they will not stoop to unworthy means."
Women's Suffrage Pilgrims in Cathays Park, Cardiff, 1913. Public Domain
Sources:
Book: Hearts And Minds: The Untold Story of the Great Pilgrimage and How Women Won the Vote, J. Robinson (2018). This excellent account is just out. It includes references to my great, great aunt Edith Eskrigge, who was on the Watling Street route of the pilgrimage. I posted a blog about her on this site on 1st December 2014.
Newspapers: Leeds Mercury, 13/11/1890, 10/12/1890, 1/7/1913, 3/7/1913; Yorkshire Evening Post, 9/12/1890, 17/6/1913, 1/7/1913, 2/7/1913, 26/7/1913; Yorkshire Post and Leeds Intelligencer, 16/8/1889, 15/11/1890, 8/7/1891, 18/6/1913, 25/6/1913, 30/6/1913, 2/7/1913, 3/7/1913; Leeds Times, 15/11/1890