The Cardigan Arms, on Kirkstall Road, is the last of Tetley's once much-vaunted Victorian "Big Three" Burley pubs to still be in business. Along with the Rising Sun (now derelict) and the Queen Hotel (now a supermarket) the Grade II listed Cardigan was described as "superb" in a 1988 survey of old Leeds pubs. With its five rooms, each of individual character, and its fine original tiling, woodwork, glasswork and brasswork, the place remains a tremendous (and rare) example of the late Victorian gin-palace.
It is, however, unlikely to last long in its current shabby and unloved condition, exacerbated by the flooding it suffered when the River Aire burst its banks on Boxing Day, 2015. Its closure would be a frightful loss, especially so since the Cardigan name features prominently in Leeds's history. Indeed, the failings of the 7th Earl of Cardigan (famous for leading the charge of the light brigade and known to some as the "Homicidal Earl") were indirectly responsible for the present building's existence.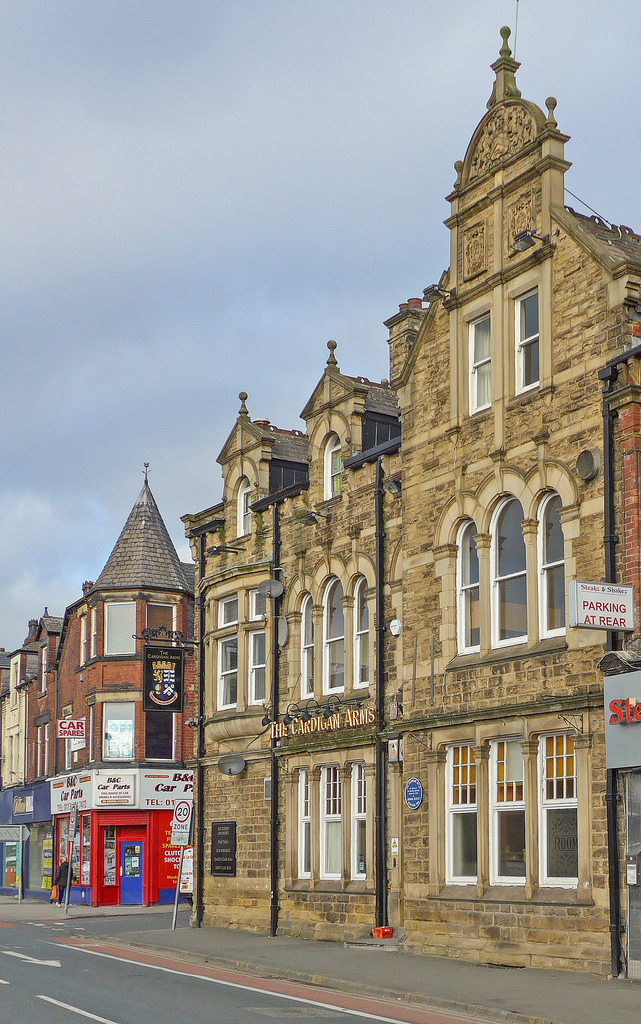 The Cardigan Arms by Tim Green, taken 20th January, 2017: https://www.flickr.com/photos/atoach/31617447153
An earlier "Cardigan Arms" stood on the same spot from about 1806, when a turnpike road was laid from Leeds to Kirkstall (Kirkstall Road). This was probably a coaching inn, as it was then surrounded by fields and the nearest village (Burley) was some way distant. Despite the building of the Leeds-Harrogate railway line viaduct nearby in the 1840s, the inn stayed beyond the reach of urbanisation for a long while. Whilst Leeds was advancing rapidly towards it by the late 1880s, its setting was still predominantly countrified in character. "Cardigan Field" opposite then housed sports recreation grounds, and horse-drawn omnibuses trundled sedately past.
Up to then this had all been Brudenell land. The Brudenell family, hereditary earls of Cardigan, owned over half of what was then termed the township of "Headingley cum Burley", as part of the vast former Kirkstall Abbey estates they had inherited in 1671. This accounts for the many appearances of "Brudenell" and "Cardigan" in local place-names, though their family seat was actually at Deene Park in Northamptonshire and they had extensive further lands there and elsewhere.
In 1837, James Thomas Brudenell came into his inheritance as the 7th Earl of Cardigan. Tall, lean, golden-haired and luxuriantly be-whiskered, his likenesses in portraiture offer a caricature of the dashing Victorian cavalry officer. But the man himself seems to have been a caricature of the arrogant, aristocratic cad. As a serial adulterer and philanderer he was often the subject of high-society scandal, and, as an acrimonious bully with a bad temper he often attracted the hatred of brother army officers. And it was his penchant for duelling that earned him the sobriquet "the Homicidal earl".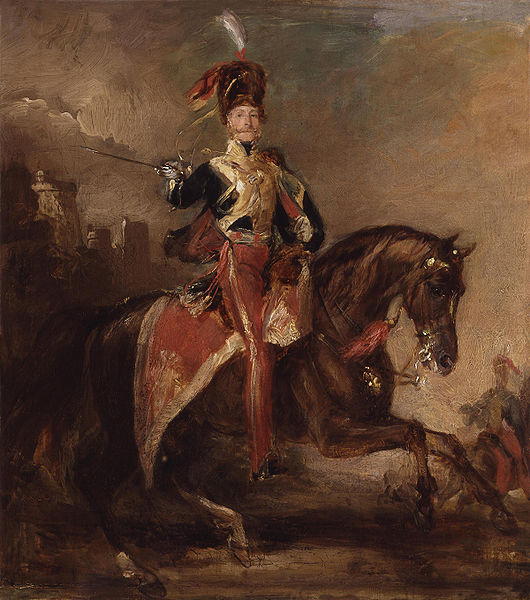 James Thomas Brudenell, 7th Earl of Cardigan by Sir Francis Grant
Even the 7th earl's one moment of glory, when he led the charge of the light brigade at the Crimean War battle of Balaclava in 1854, was tempered by the fact that the enterprise was a suicidal disaster. Of the 673 men and horses who began the charge, 113 men and 475 horses were killed and many more badly injured. Cardigan, who was undoubtedly brave, maintained that he acted correctly, though the debate about who was at fault continues.
And the earl had a similarly cavalier attitude to financial prudence, since his excessive gambling and extravagant high-living saddled the family with huge debts on his death in 1868. The Yorkshire lands were by then heavily mortgaged. His highly eccentric widow Lady Adeline Cardigan, to whom he left a life-interest, set out to match him in excess and dissipation, which landed the estate in ever-deeper financial trouble.
This occasioned a sale by auction of all the Cardigan lands in Leeds, which took place over four days in December 1888 at the Albert Hall (the lecture theatre at the Mechanics Institute, Cookridge Street– now Leeds City Museum). The old Cardigan Arms, together with a substantial building plot behind it, was sold to Mr William Child for £6,250. Another notable lot, offered for sale the same day, included the ruins of Kirkstall Abbey. In truth it was a good time to sell, because agricultural land was depressed in price but land released for house-building was at a premium. And Leeds was on the verge of a huge building boom.
Within a few short years, the old Cardigan Arms found itself within a newly developed quarter (described in 1897 as "a rather superior residential neighbourhood" by Jackson's Leeds guide) and had electric trams running to-and-fro outside. The sports grounds of Cardigan Fields opposite disappeared under acreages of terraced housing (now demolished and replaced by shopping and leisure facilities). The ramshackle old inn had become dilapidated, however, and was not up to catering for an urban population, and the magnificent replacement we see today was built in 1895. The architect was Thomas Winn, of Albion Street, and the licensee was Mr Benjamin Greaves.
I remember many jolly evenings spent in the "Cardy", in the days when it was warming and well-patronised and welcoming. I re-visited it one recent lunchtime to find myself one of only two customers, and no real ales on tap. A couple of other people were there doing some redecorating, apparently in preparation for the pub to be closed for a while for use as a film set. This historic building should surely be refurbished to act as a living entity, not relegated to being an occasional museum-piece film backdrop. The Adelphi in town shows just what can be done with such places.
(There is an initiative afoot to buy the Cardigan Arms and turn it into a community owned pub: https://www.cardiganarms.coop/)
Sources:
Books: "Jackson's Guide to Leeds" (1897); "The Brudenells of Deene", Joan Wake (1953); "The Homicidal Earl: the life of Lord Cardigan", Saul David (1966); "The Rise of Suburbia" ed., F.M.L Thompson (1982); "Old Inns and Pubs of Leeds", Barrie Pepper (1988); "Chapters in Headingley History", Michael Collinson; DNB entry on "Brudenell, James Thomas".
Newspapers: Leeds Mercury, 12/12/1888, 25/8/1894, 8/9/1894; Yorkshire Post & Leeds Intelligencer, 15/12/1888; Yorkshire Evening Post, 23/8/1894.
Maps: Lands belonging to the earl of Cardigan (J Dickinson, 1711); Ordnance Survey Maps (Leeds, 1852, 1893 & 1908).