I was in Liverpool recently for a day and decided to go over the water to visit the U-Boat Story museum at Birkenhead, where salvaged German submarine U-534 lies at rest. I went aboard U-534 some years ago at the Historic Warships Museum in Birkenhead, when she was still in one piece. She has since been sliced vertically into four segments, like a shark on a fishmonger's slab, with head, tail, and middle bits arranged separately, their interiors visible, but not accessible, through transparent partitions sealing their exposed ends. The U-Boat Story is situated at the Woodside Ferry Terminal, which has sentimental associations for my family that I shall describe.
U-534 was sunk at the end of the war on 5th of May 1945, the order having been given for the U-Boat fleet to surrender to the allies as from eight a.m. that morning. She had just left Germany for Norway and was proceeding on the surface in the Kattegat, northeast of Denmark. Fatally for her, she was not flying a flag of surrender. An allied aircraft spotted her and dropped depth charges on her stern, one of which slipped off and exploded below, blowing the hole in her side which drove her to the bottom. Her crew escaped but she remained on the seabed until 1993, when she was raised and brought to Birkenhead. It is not known why the captain failed to fly a surrender flag, nor what final mission he was on, because he later committed suicide without elucidating these mysteries.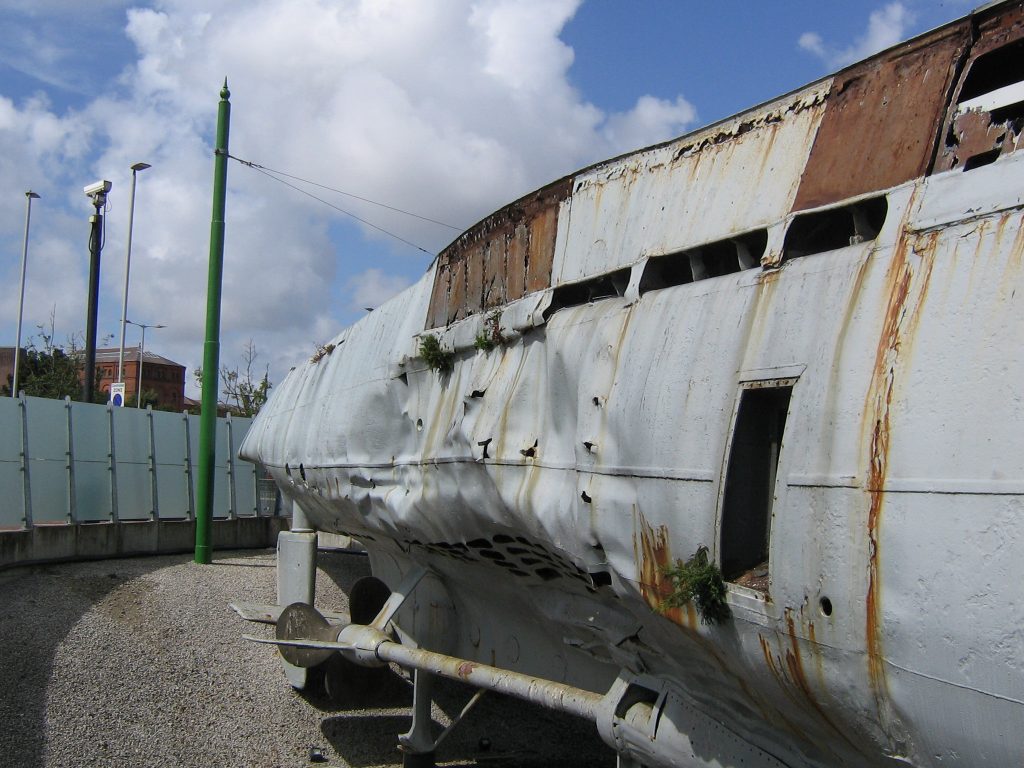 The tail section of U-534, showing the depth charge damage which sunk her. My photo.
It's such a pity that the boat has been cut-up, though I understand there were significant practical difficulties in moving her to the site and showing her without doing so. Better that she is displayed like this, I suppose, than not at all. Going aboard her when she was still intact was a tremendous experience, however, that cannot really be reproduced by the internal cameras now installed. Everything was encrusted in fifty years' worth of marine deposits that one could touch. There was still tinned food in the galley, and items of clothing hanging up, and bundles of still-readable documents, waterproofed by silt. She was so long and narrow that one could acutely feel the claustrophobia of a confined and dangerous world.
It is fitting that she is housed on the Mersey, given that the Western Approaches command was situated there during the Battle of the Atlantic. My mother was a teenager in nearby Wallasey when the war started and was evacuated to north Wales, their house being completely bombed-out subsequently during the blitz on Merseyside. At the same time my father worked as a shipping-office lad in Liverpool, and thus had occasion to visit vessels limping into port after surviving the U-Boat menace on the Atlantic convoys. He later fought in Burma during its liberation from the Japanese.
My parents first met at the Woodside Ferry Terminal, where U-534 is now displayed, in the early 1950s, as they were queuing for excursion tickets. Sadly, my mother passed away some weeks ago. They had been married for sixty-three years. We are losing our human connection to the nobility and sacrifice of those who endured the war. We do need to remember.