Opposite Lister Park's stately Prince of Wales gate on North Park Road sits an unpretentious, but rather lovely seven-house terrace named "Fairmount". When it was built in 1853, out of Bradford's fine honey-coloured local sandstone, it stood alone in what was then a rural setting, overlooking Manningham Hall, home of the landed Lister family. There was then no Lister Park, nor yet a Cartwright Hall, and what is now North Park Road was a country track known as Hesp Lane. Sadly, Fairmount is not so fair now, being unoccupied and in a state of semi-dereliction.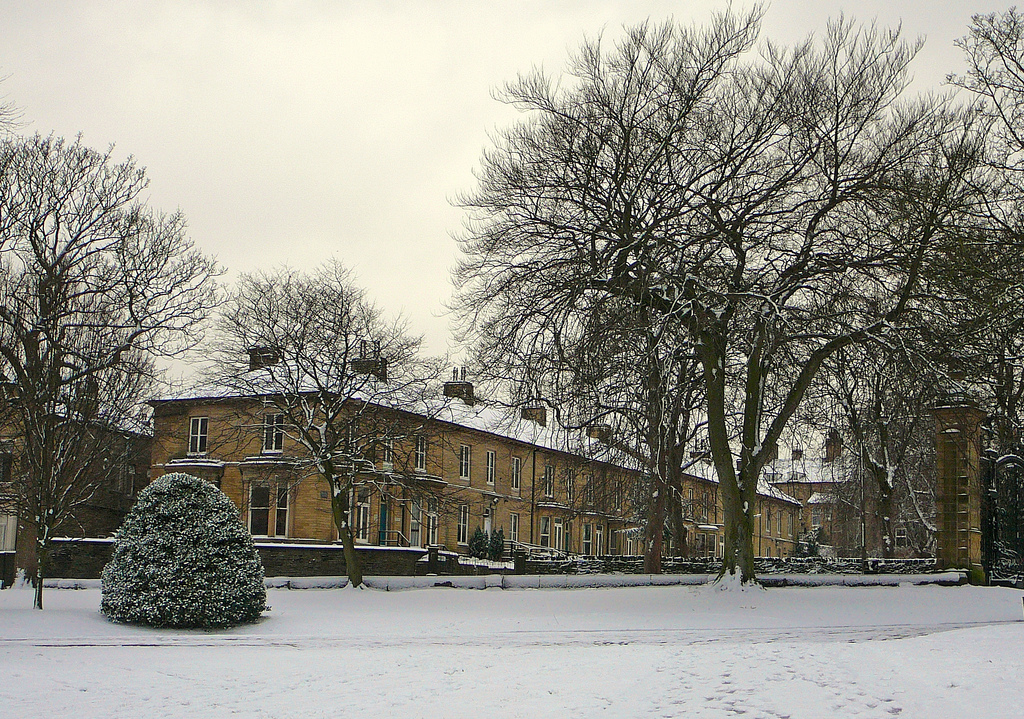 Fairmount, North Park Road, Manningham, Bradford. Taken on 2nd February 2009 from Lister Park by Tim Green.
Like many northern manufacturing towns, early nineteenth-century Bradford rapidly became a stinky hell-hole in its first flush of industrialisation, so as to prompt an exodus of its prosperous citizens. Conditions were compounded by Bradford's position in a sort of natural amphitheatre, surrounded by hills, wherein smoke and other noxious discharges hung heavy about the town, which also suffered from overcrowded and insanitary accommodation. Those made prosperous by industrialisation soon escaped to out-of-town sanctuaries, uphill from its halo of pollution.
Several pleasant islands of exclusive development to house the refugees popped-up amid the quiet fields of rustic Manningham in the 1840s and 1850s. One thinks, in particular, of the still-surviving localities built about that time around Hanover Square, Peel Square and Apsley Crescent. Fairmount leapfrogged these to become, in the mid-nineteenth century, the only such residential pocket north of Manningham village, its name surely epitomising the aspirations for leisurely living of its first occupants.
When built, Fairmount terrace was angled deliberately to view picturesque Manningham Hall and its grounds. Its only other near neighbours were isolated villas in the valley of Bradford Beck further below, and Trees Farm uphill to the west. With its private carriageway and communal gardens to the front, it must have been an idyllic situation. But its early residents were far from being leading industrial magnates. The unadorned simplicity of its ashlar (dressed stone-block) construction is reflected in its initial social composition.
"Stuff" (wool) merchants were strongly represented amongst its early householders, which is hardly surprising since Bradford's growth was founded on the manufacture and retailing of woollen goods. Most Fairmount households were of the middling kind that could afford two or three live-in servants. Bradford's population of German-born wool traders was represented by F.E. Schlesinger, a worsted and silk-yarn merchant, who lived alone at No 2 in 1861, attended only by a housekeeper. Another stuff merchant, James William Mills, who was apparently behind Fairmount's construction, preceded Schlesinger at that address, before moving on to one in the Kirklands area of Baildon by 1861.
Fairmount's refined isolation was successively breached, however, as Samuel Cunliffe Lister began to build the gigantic Manningham Mills in the 1870s, and less exclusive housing than itself was constructed all the way uphill from Fairmount to the new factory walls. Lister himself abandoned Manningham Hall in the 1870s and gave it and its grounds over to Bradford Corporation to make Lister Park, the family seat being demolished and later replaced by Cartwright Hall.
Fairmount was last occupied as a residential care home, which was forced by the CSCI (Commission for Social Care Inspection) to close in 2006 due to multiple failures to meet regulations. In a scandalous case at that time a care worker who had secured employment there, despite having a criminal record for robbery and kidnapping, was jailed for stealing considerable sums from vulnerable residents.
The terrace is in North Park Road conservation area and Bradford Council tell me that they are negotiating with the current owners (property developers) for it to be restored and preferably returned to residential use, either privately or in council ownership. Apparently, two wild cherry trees in the garden are listed with the Natural History Museum Urban Tree Survey. My recent photos below show how far restoration has to go: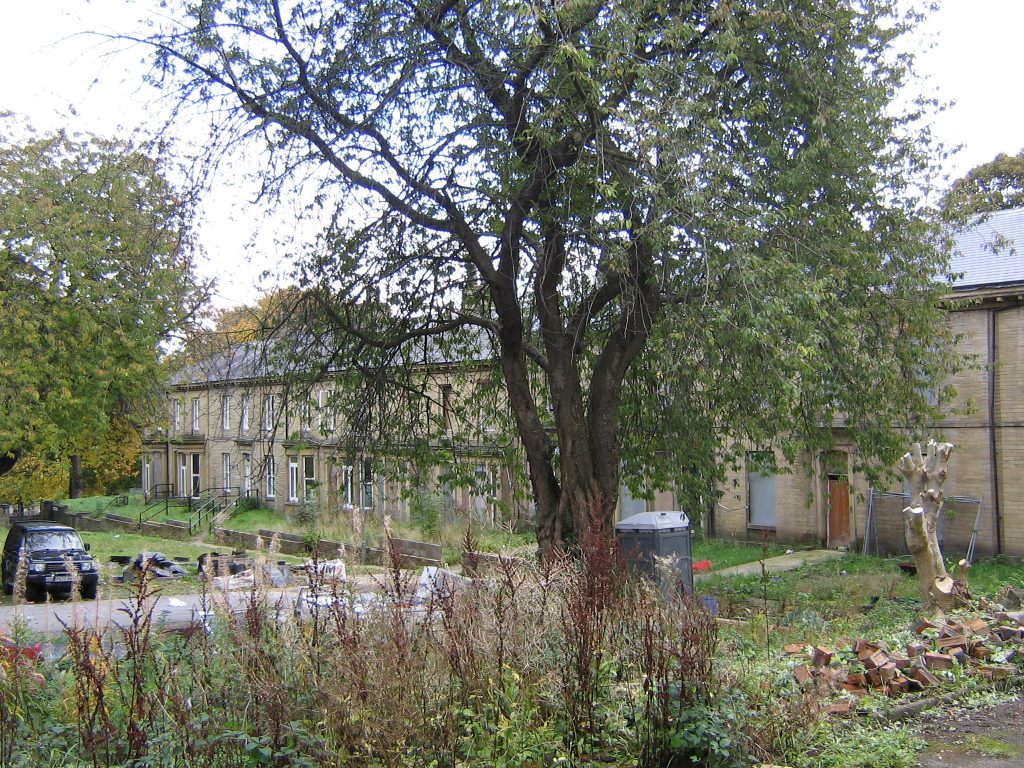 Fairmount, looking East, 19th October 2016.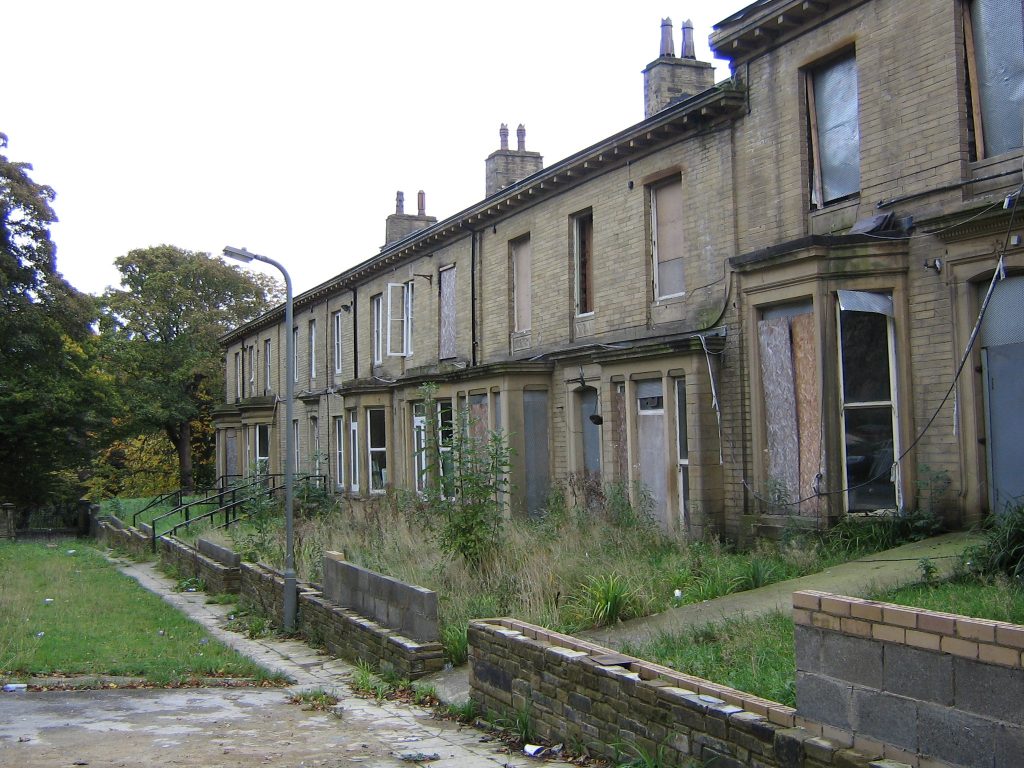 Fairmount, looking East, 19th October 2016.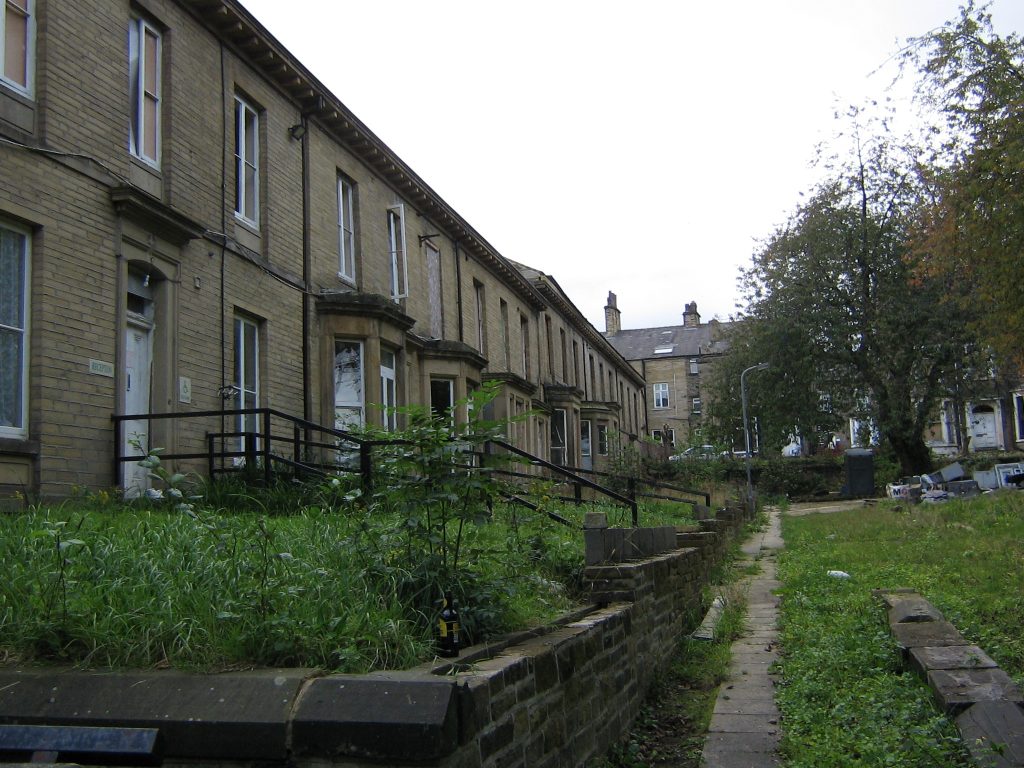 Fairmount, looking West, 19th October 2016.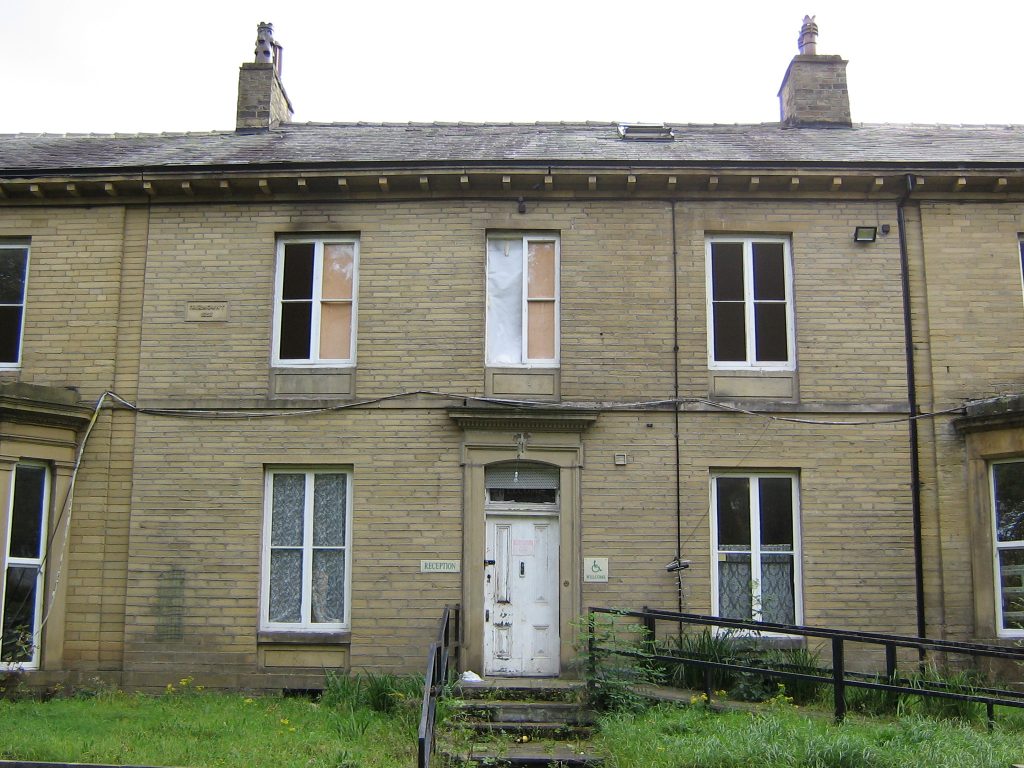 No 2 Fairmount, where J.W Mills and F.E Schlesinger lived, 19th October 2016.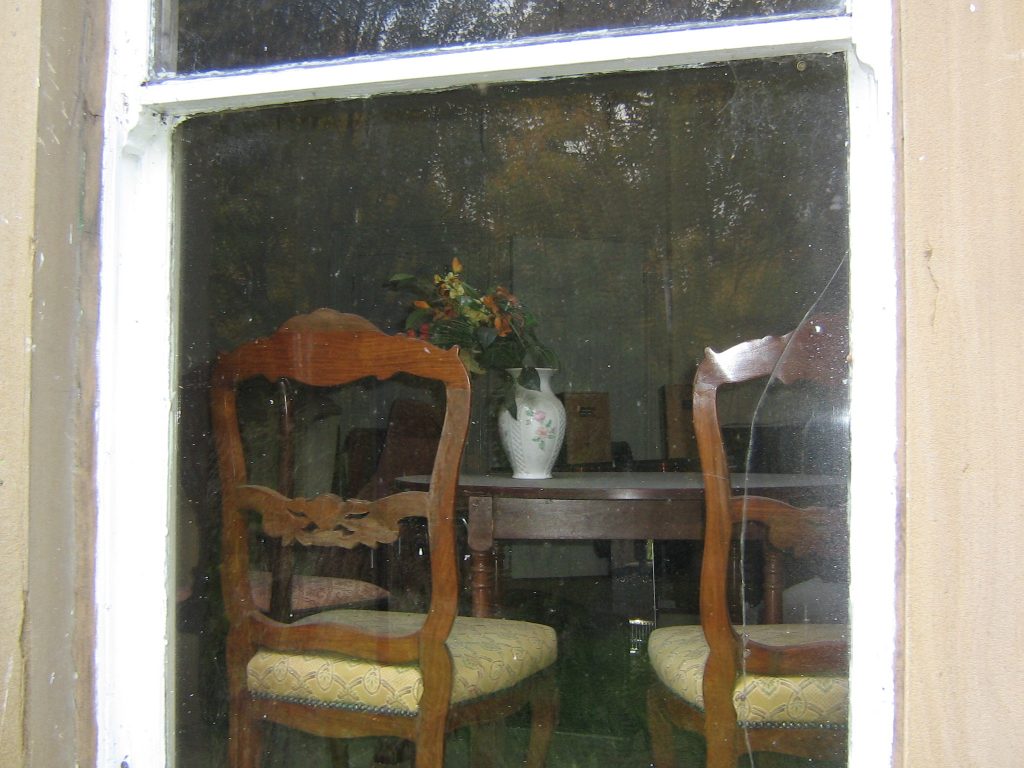 Looking through one of the east-facing bay windows at No 1 Fairmount, 19th October 2016. A pair of residents had perhaps just gone upstairs for a nap after taking afternoon tea in the bay when the care home closed? The table-flowers have wilted somewhat.
Sources and Acknowledgements:
Manningham, Character and diversity in a Bradford suburb, Simon Taylor & Kathryn Gibson, English Heritage (2010); Histories of Manningham, Allerton and Heaton, William Cudworth (1896); Lunds' Bradford Directory (1856); Post Office Bradford Directory (1916);1861 Census; Telegraph & Argus; Bradford Local Studies Library maps.
I am grateful to Bradford Metropolitan District Council Department of Regeneration and Bradford Local Studies Library for their help in researching this post.